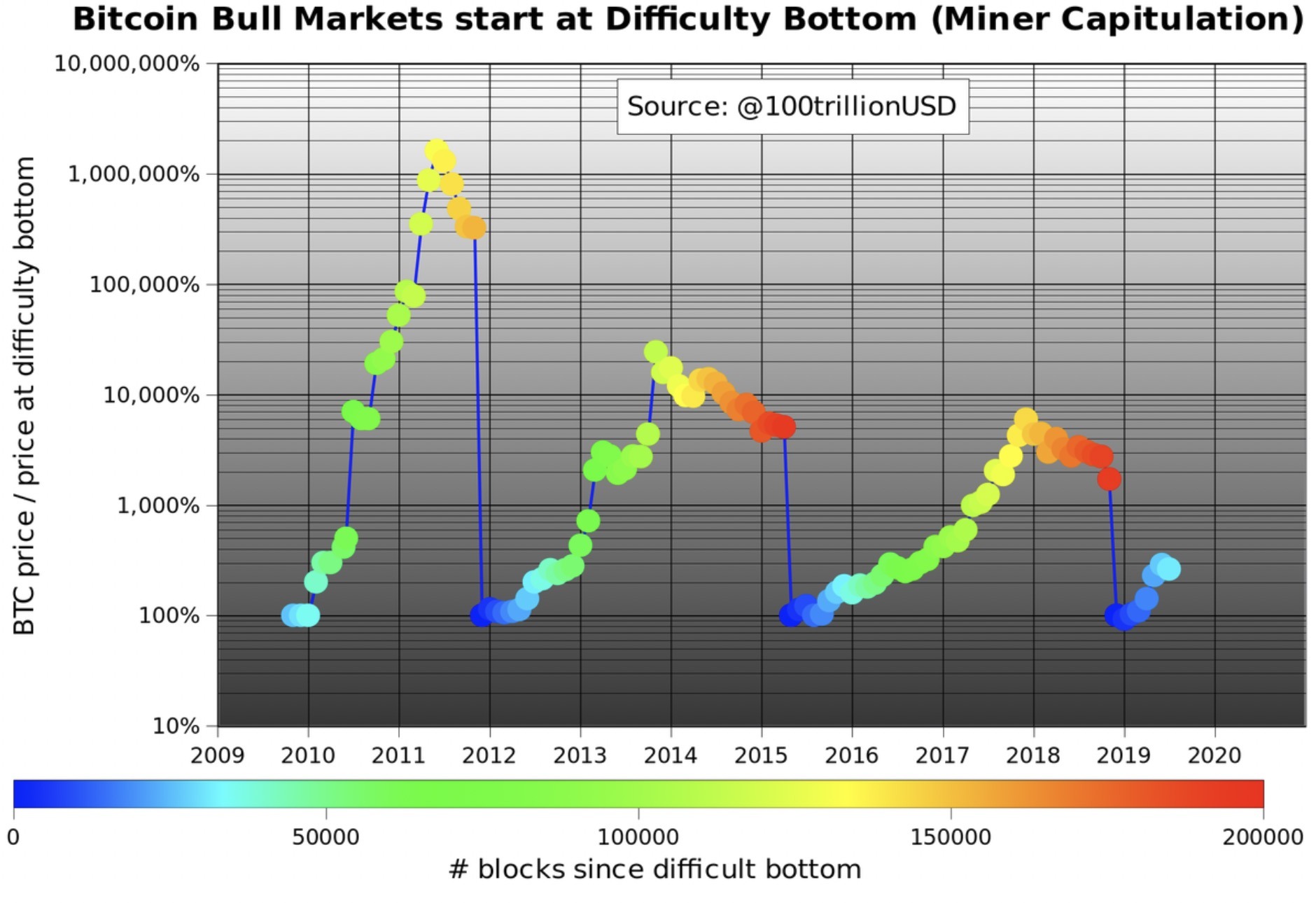 BITCOIN'S PATH TO $1MILLION US AND BEYOND

BITCOIN'S PATH TO $1MILLION US AND BEYOND…
"……A purely peer-to-peer version of electronic cash would allow online payments to be sent directly from one party to another without going through a financial institution."
(Bitcoin: A Peer-to-Peer Electronic Cash System, Satoshi Nakamoto)
August 21, 2019
By Zoltan Vass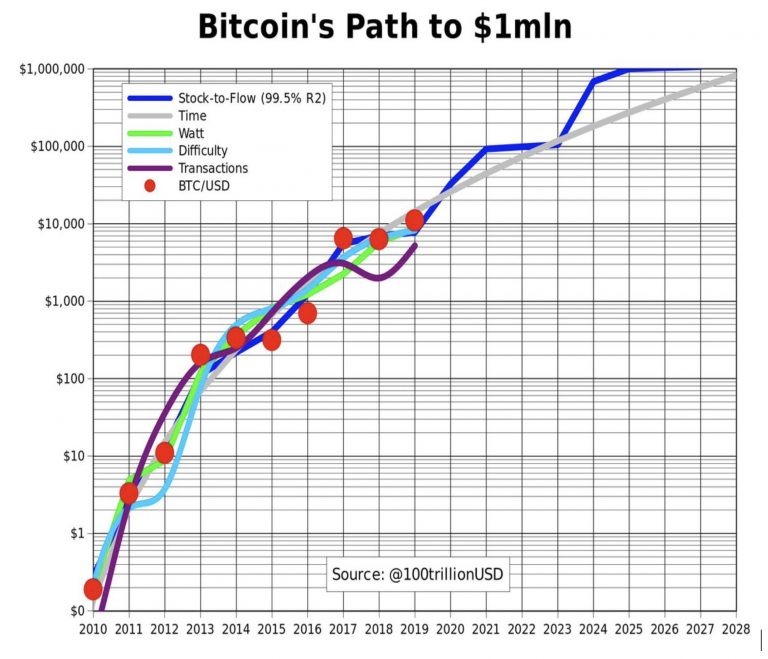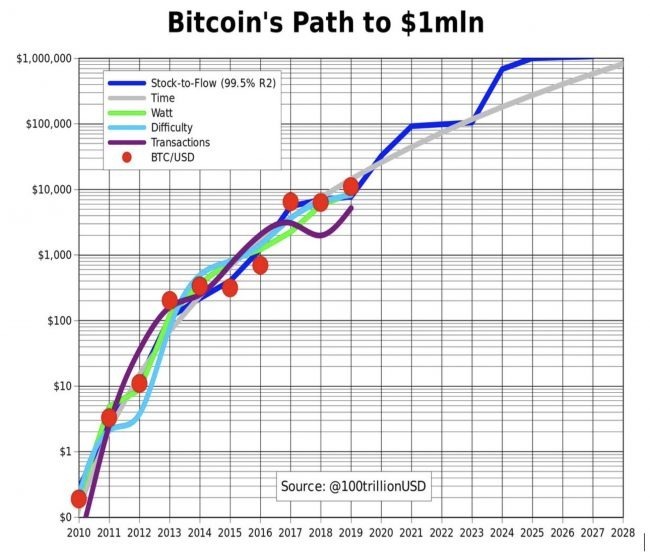 INTRODUCTION:
THE PURPOSE OF THIS SUMMARY IS TO ILLUSTRATE AND SUPPORT A CASE HOW BITCOIN MAY BE ABLE TO REACH $1 MILLION US AND BEYOND THE NEXT 5-10 YEARS.
Satoshi Nakamoto published the bitcoin white paper 31/Oct 2008 [1], created the bitcoin genesis block 03/Jan 2009, and released the bitcoin code 08/Jan 2009. So, begins a journey that leads to a $200bn bitcoin (BTC) market today.
THIS WORK IS FOCUSED ON TWO MAJOR COMPONENTS:
1. TECHNICAL
2. FUNDAMENTAL
ALTHOUGH MY CURRENT RESEARCH WAS WRITTEN AS A SUPPORTING ARGUMENT FOR A PROJECT CALLED "THE BITCOIN HOUSE", ITS FINDINGS COULD VERY WELL SERVE AS A FOUNDATION FOR OTHER BITCOIN/BLOCKCHAIN RELATED VENTURES IN THE FUTURE, OR IT JUST CAN PERFORM A POTENTIALLY AND INSANELY LUCRATIVE SAVING/INVESTING VEHICLE TASK. (PRIVATE CRYPTO FUND, TRADING SYSTEMS, ETC)
This summary makes a serious attempt to include the many important reasons why bitcoin may be becoming the vehicle for the biggest transfer of wealth in the mankind, it is most probably lacking certain other less known consideration. Far from perfect, but hopefully it gives the reader enough food for thoughts.
Lastly, any calculations, assumptions that are based on bitcoin's more than a little over 10 years of history and track record, may not be considered and used for its future's performance. This work is no financial advice as such, and reader should consult with a licensed financial adviser before taking action.
SUMMARY FOR BITCOIN HOUSE:
AFTER THROUGHLY ANALYSING BITCOIN'S HISTORY AND ITS FUTURE'S TRAJECTORY, IT IS SAFE TO SAY THAT THE BITCOIN HOUSE PROJECT COULD BE A WINNING PROPOSITION AND A PROFITABLE PROJECT EVEN:
1./ IN A NON-TAX-FREE ZONES
2./ WITHOUT ANY GOVERNMENT GRANT, CREDIT (SRECS BALLON PAYMENT)
This, on its own, may open a whole different and new markets and would not limit the marketing efforts. Just the opposite, this revolutionary power supply (EM Generator) coupled with bitcoin mining seem to solve several challenges.
The study below – even if it is a hypothetical scenario – suggests a much higher bitcoin price in the near future 1-2 years and beyond making the project doable provided that other circumstances remain as favorable as today. I did not elaborate two other important things which still need to be noted though:
a./ REGULATIONS IN CRYPTO SPACE
This is an ongoing process with different and sometimes contradictory statements, actions that impact cryptocurrencies. Countries, companies, especially banks tend to spread "FUD" (Fear, Uncertainty, Doubt) in order to "control" bitcoin and affect people's behavior, sympathy towards bitcoin.
What we need to see here is that bitcoin is the only true decentralized cryptocurrency. No management, no central controlling system, no company, no headquarter, etc. Case and point, how can you "ban" something that is "untouchable" and borderless?
The answer is: You can NOT.
However, one can regulate the environment, the players, individuals, companies that are dealing with bitcoin. This, in fact, is a desirable need so that people, major financial institutions can deal with bitcoin transactions with TRUST. This process is also needed for bitcoin's mass adoption globally. This topic is important, and it needs to be included later in more detail.
"Bakkt and ICE Futures U.S. are bringing federally regulated price discovery to bitcoin markets. Fueled by the same technology and expertise that powers ICE's global markets, the Bakkt Bitcoin Daily and Monthly Futures contracts enable physical delivery through secure, regulated custody."
b./ ALTCOINS' ROLE, FUTURE
Today everything that is not bitcoin is an altcoin. Bitcoin's dominance is close to 70%!!! The entire cryptomarket has been going thru a necessary transformation and eventually the crème will come up to the top. The notion that there will be another "new" bitcoin is false and misleading. Bitcoin will likely to be a global reserve currency and a true store of value. We may see a few altcoins succeed and serve various functions, however, I do not see any altcoin today that can seriously jeopardize bitcoin's dominance.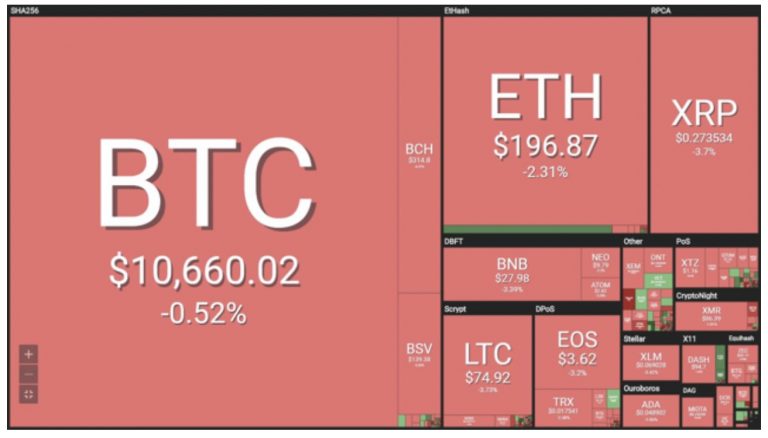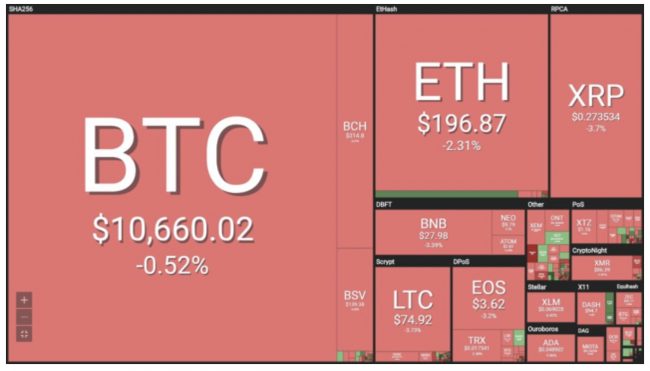 PART 1 – TECHNICAL
a./ Stock-To-Flow
Scarcity and stock-to-flow should be understood in a context of supply and demand.
If something is scarce or in other words limited in supply, it is usually an asset. People tend to collect these type of things, whether it is gold, arts or in our case bitcoin.
Here we are not elaborating in detail how bitcoin was created and why its supply is defined as 21 million, we just take it granted for now.
Dictionaries usually define scarcity as 'a situation in which something is not easy to find or get', and 'a lack of something'.
Borrowing Nick Sabo's interpretation:
"Precious metals and collectibles have an unforgeable scarcity due to the costliness of their creation. This once provided money the value of which was largely independent of any trusted third party. [..][but] you can't pay online with metal. Thus, it would be very nice if there were a protocol whereby unforgeably costly bits could be created online with minimal dependence on trusted third parties, and then securely stored, transferred, and assayed with similar minimal trust. Bit gold."
Bitcoin has unforgeable costliness, because it costs a lot of electricity to produce new bitcoins. Producing bitcoins cannot be easily faked. Note that this is different for fiat money and for altcoins that have no supply cap, have no proof-of-work (PoW), have low hash rate (computer power), or have a small group of people or companies that can easily influence supply etc.
"The high stock-to-flow ratio of gold makes it the commodity with the lowest price elasticity of supply."
"The existing stockpiles of Bitcoin in 2017 were around 25 times larger than the new coins produced in 2017. This is still less than half of the ratio for gold, but around the year 2022, Bitcoin's stock-to-flow ratio will overtake that of gold."
So, scarcity can be quantified by SF.
SF = stock / flow
Definition:
Stock is the size of the existing stockpiles or reserves.
Flow is the yearly production.
Instead of SF, people also use supply growth rate (flow/stock). Note that SF = 1 / supply growth rate.


Gold has the highest SF 62, it takes 62 years of production to get current gold stock. Silver is second with SF 22. This high SF makes them monetary goods or "true store of value." Bitcoin currently has a stock of 17.5m coins and supply of 0.7m/yr = SF 25. This places bitcoin in the monetary goods category like silver and gold. Bitcoin's market value at current prices is about $200bn.  (August 2019)
Stock-to-Flow and Value
The hypothesis in this study is that scarcity, as measured by SF, directly drives value. A look at the table above confirms that market values tend to be higher when SF is higher.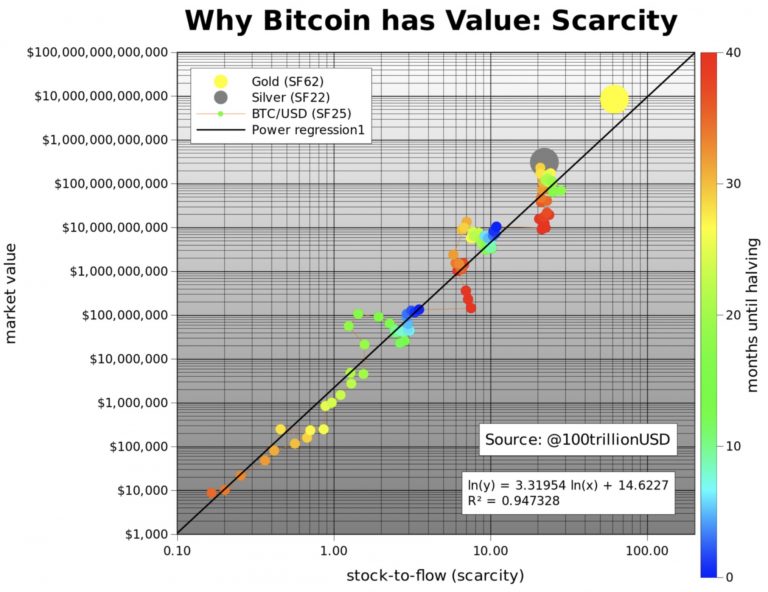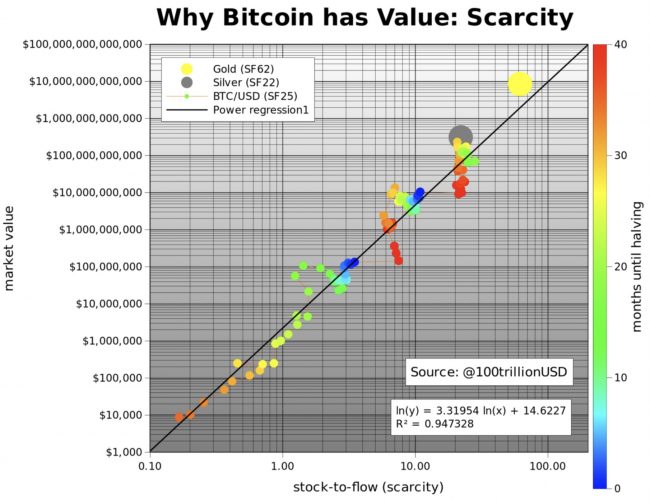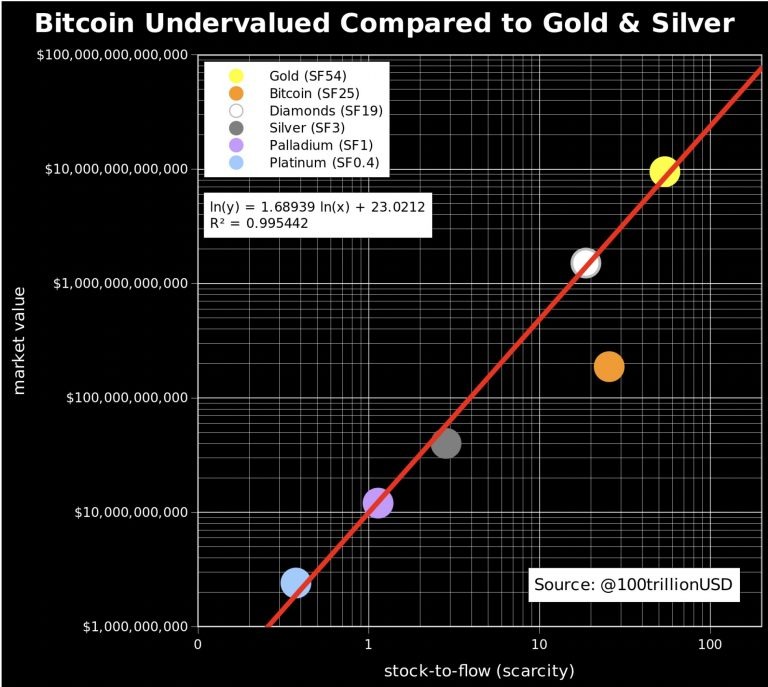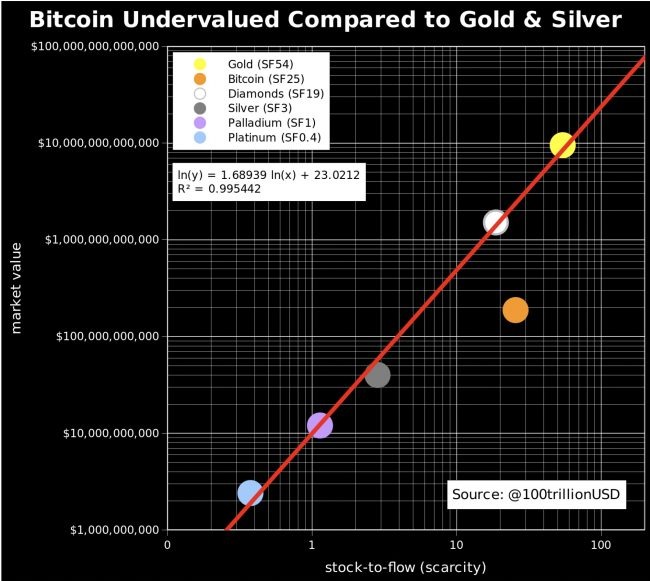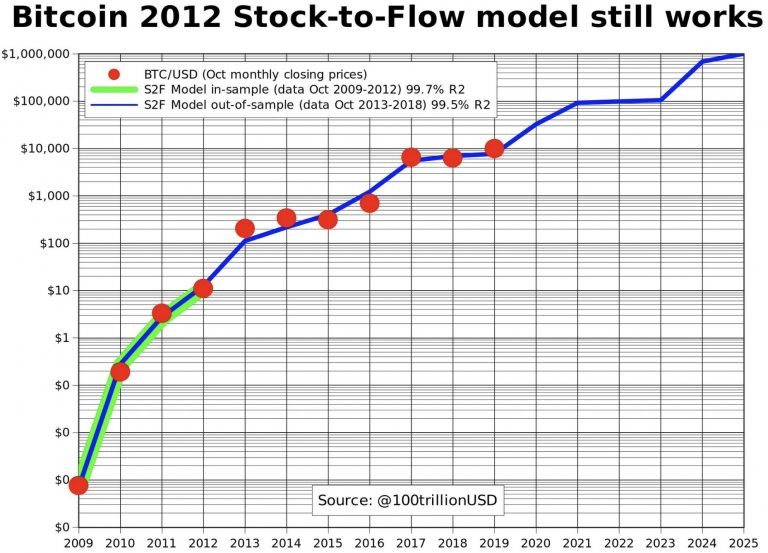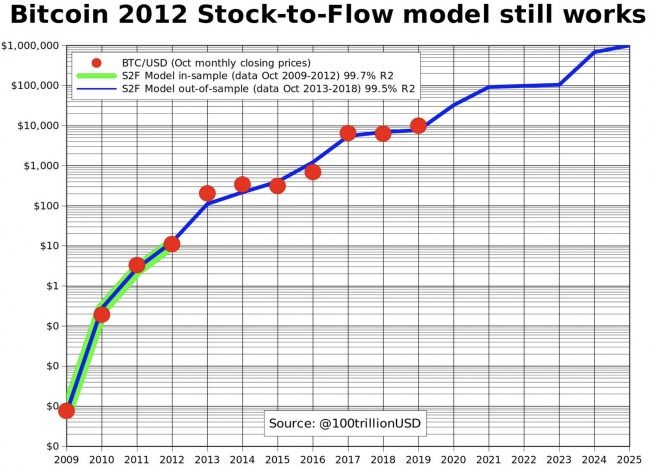 This model is right on target. It predicts a bitcoin market value of $1trn after next halving in May 2020, which translates in a bitcoin price of $55,000.
b./ Bitcoin halving process
Supply of bitcoin is fixed. New bitcoins are created in every new block. Blocks are created every 10 minutes (on average), when a miner finds the hash that satisfies the PoW required for a valid block. The first transaction in each block, called the coinbase, contains the block reward for the miner that found the block. The block reward consists of the fees that people pay for transactions in that block and the newly created coins (called subsidy). The subsidy started at 50 bitcoins, and is halved every 210,000 blocks (about 4 years). That's why 'halvings' are very important for bitcoins money supply and SF. Halvings also cause the supply growth rate (in bitcoin context usually called 'monetary inflation') to be stepped and not smooth.
Bitcoin rewards last fell on 9 July 2016 at the point of the second halving – an event which saw the block reward fall from 25 new bitcoins per block to 12.5 bitcoin. Bitcoin's price surged from $576 on 9 June 2016 (a month before the halving) to $650 at the time of the event itself. Despite significant volatility, prices continued to rise over the course of the next year to reach $2526 on 9 July 2017.
A similar pattern emerged surrounding the first halving on 28 November 2012 when the bitcoin block reward dropped from 50 to 25 new bitcoins. Prices increased from $11 a month before the halving to $12 on the day of the event itself, continuing to rise over the course of the next year to reach $1038 on 28 November 2013.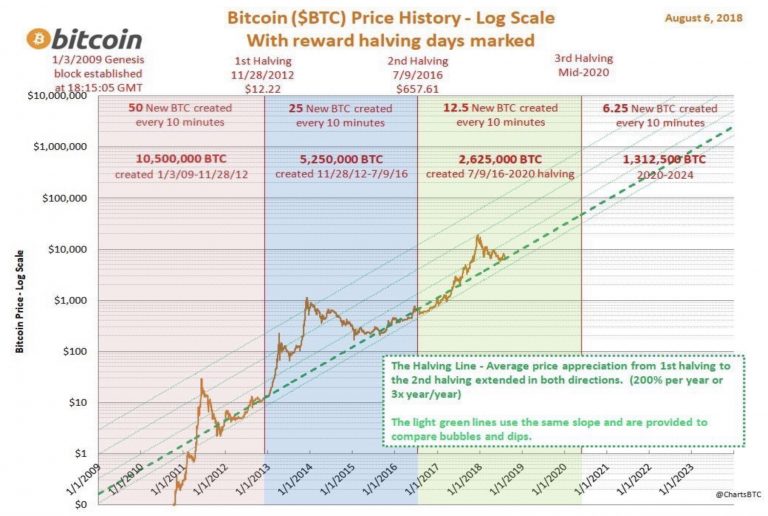 c./ Bitcoin mining difficulty
After each bitcoin all time high (ATH) we saw a downward difficulty adjustment. In the chart the lowest monthly difficulty level (blue) is reset to 100% … and seems to be an objective start of the next bull run (green/yellow), with 100x opportunity. Just started a new run.
When prices decline, hash power leaves the ecosystem, which inspires a downward adjustment of difficulty. Resource costs determine profitability, so there is a limit to how low they need to go each time.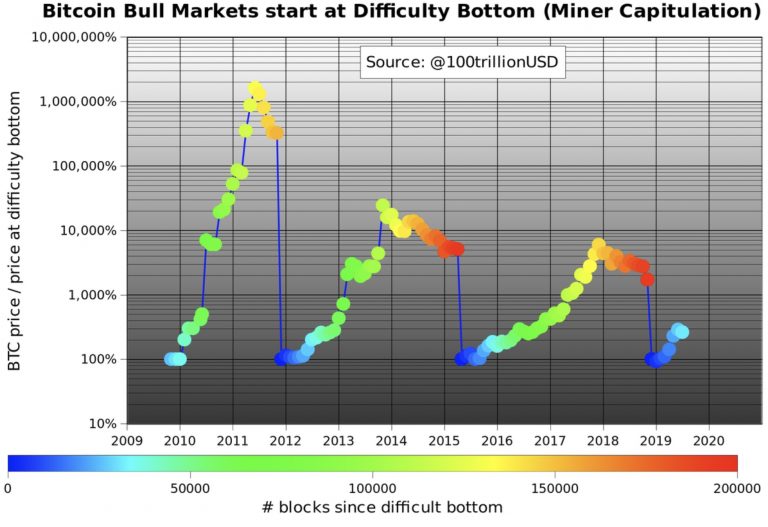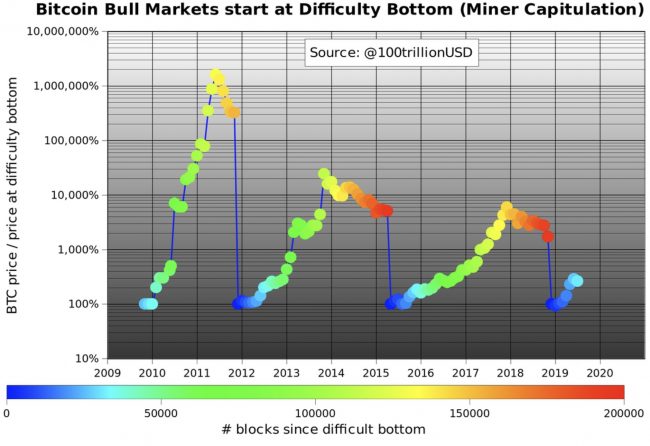 Bitcoin Bull Markets following Difficulty Bottom Formations
BITCOIN bull markets seem to start at difficulty bottoms.
"We saw difficulty bottoms (miner capitulation) in Dec 2011 ($4.6), May 2015 ($230) and Dec 2018 ($3691)," wrote PlanB. "Price continues to rise from these bottoms until ATH around 100x … implying a continuing uptrend until $370K ATH."
ATH= All Time High
Thus, this model suggests/predicts $370,000 US for the next ATH which may occur in late 2021, early 2022.
PART 2 – FUNDAMENTAL
Paradigm shift – a new financial system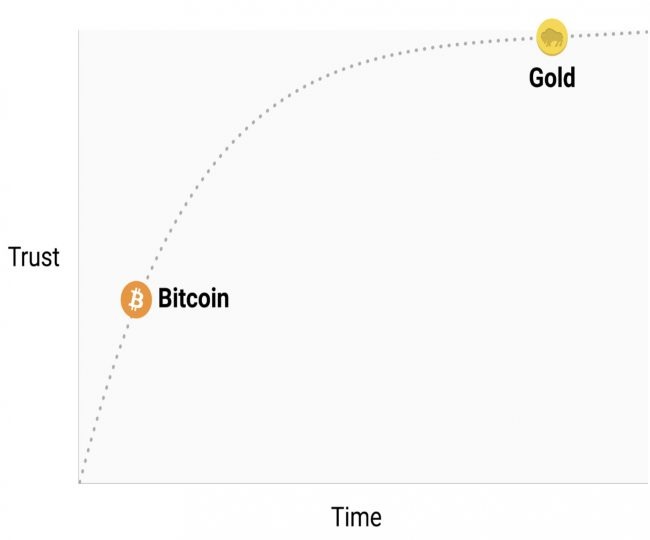 Never in the history of the world had it been possible to transfer value between distant peoples without relying on a trusted intermediary, such as a bank or government. In 2008 Satoshi Nakamoto, whose identity is still unknown, published a
9-page solution
to a long-standing problem of computer science known as the Byzantine General's Problem. Nakamoto's solution and the system he built from it — Bitcoin — allowed, for the first time ever, value to be quickly transferred, at great distance, in a completely trustless way. For an investor, the salient fact of the invention of Bitcoin is the creation of a new scarce digital good — bitcoins. Bitcoins are transferable digital tokens that are created on the Bitcoin network in a process known as "mining". Bitcoin mining is roughly analogous to gold mining except that production follows a designed, predictable schedule. By design, only 21 million bitcoins will ever be mined and most of these already have been — approximately 16.8 million bitcoins have been mined at the time of writing. Every four years the number of bitcoins produced by mining halves and the production of new bitcoins will end completely by the year 2140.
Bitcoins are not backed by any physical commodity, nor are they guaranteed by any government or company, which raises the obvious question for a new bitcoin investor: why do they have any value at all? Unlike stocks, bonds, real-estate or even commodities such as oil and wheat, bitcoins cannot be valued using standard discounted cash flow analysis or by demand for their use in the production of higher order goods. Bitcoins fall into an entirely different category of goods, known as monetary goods, whose value is set game-theoretically. I.e., each market participant values the good based on their appraisal of whether and how much other participants will value it.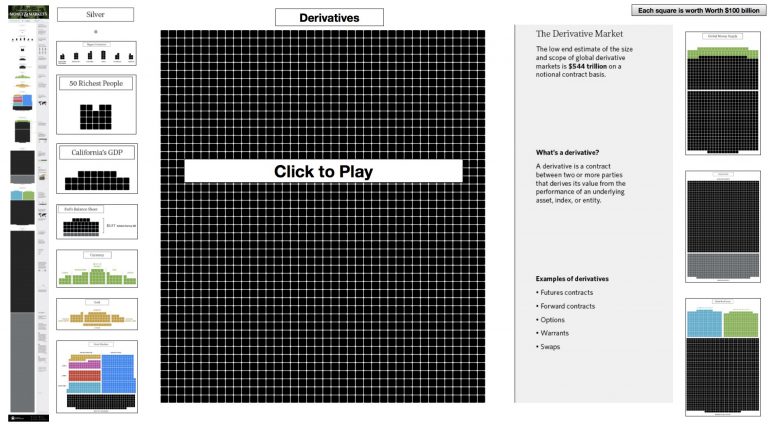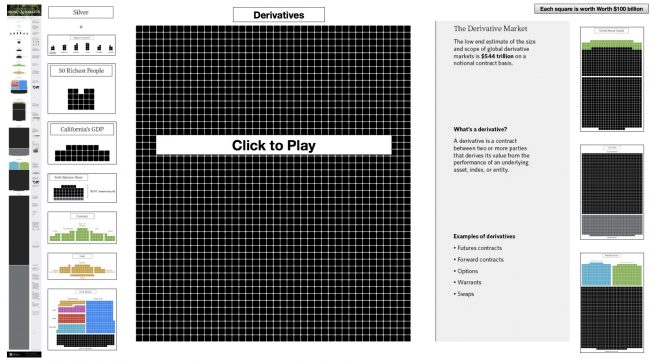 Each square represents $100 billion US. Bitcoin, as of writing, has TWO squares out the above global money supply.
When people wonder where all the money needed for $1trn bitcoin market value would come from…look above.
The answer: silver, gold, countries with negative interest rate (Europe, Japan, US soon), countries with predatory governments (Venezuela, China, Russia, Iran, Turkey, etc.), billionaires and millionaires hedging against quantitative easing (QE), and institutional investors discovering the best performing asset of last 10 years or so.
The sky is the limit for bitcoin since the old inflationary fiat monetary system will have no choice but start befriending with bitcoin. Nevertheless, the old and the new system will likely to coexist for some time until the new takes over like any technology did in the past.
Yes, bitcoin is a technology as well, a technological evolution of money.
CONCLUSION:
Considering the following bitcoin values by Nextgenlivinghomes.com, we can clearly see that its "$30,000" assumption would result paying off the $200M mortgage in only 4.4 years.
My scenario #1 claims that in May or around in 2020 – bitcoin's next halving – bitcoin could target $55,000. Almost half than the current model below. If this assumption accurate, then it would take about only 2.5 years to pay off the said mortgage!!! (provided all other elements are constant)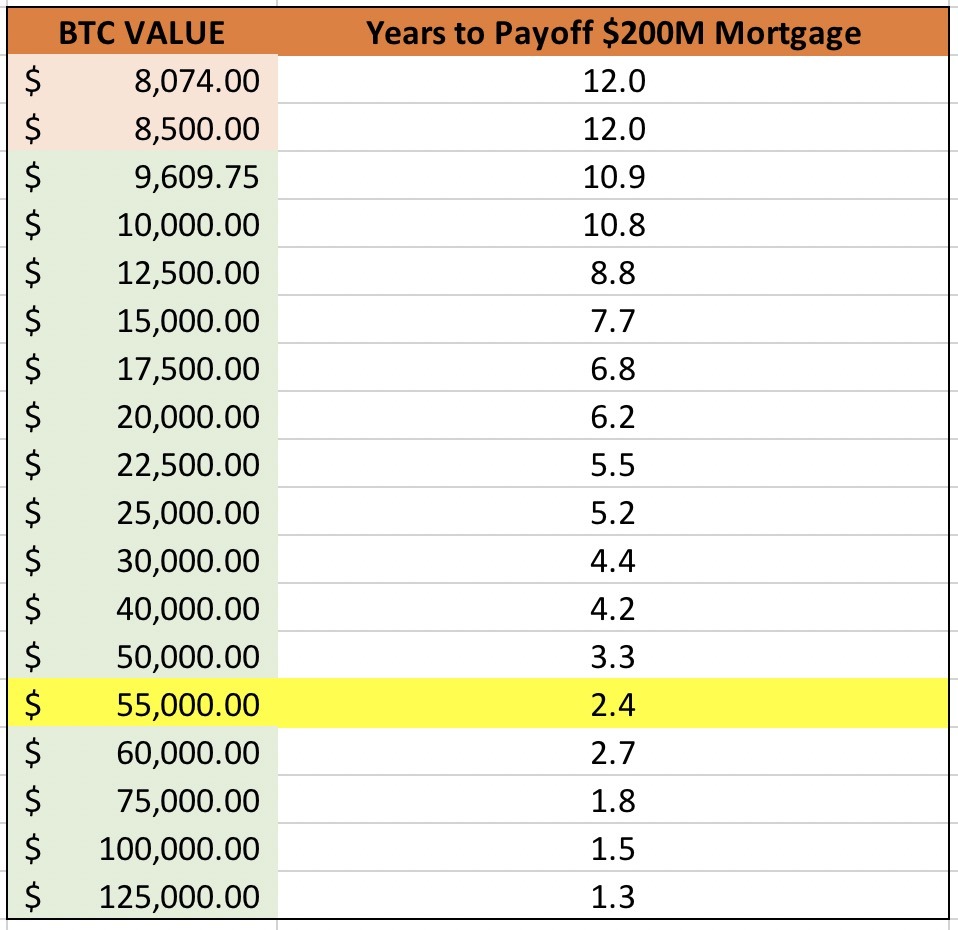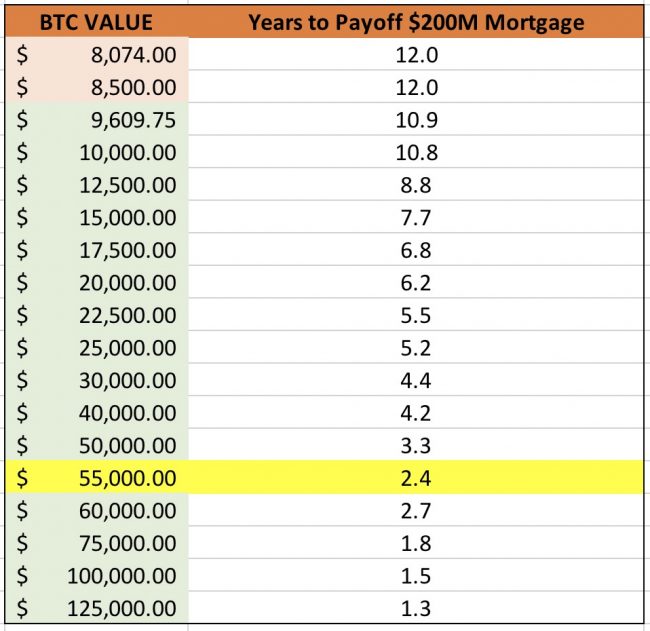 Based on the above findings and various price analyses, assumptions, it is not inconceivable to expect that the planned BITCOIN HOUSE project will likely to faster reach its "break-even" point, AND it will become considerably more profitable in the years to come than it is predicted provided that reasonable attempt will be made to promote it.
Although the planned current mortgage payment model calculates with various future bitcoin prices/values –without elaborating their reasoning – its best-case scenario uses only $30,000 per bitcoin. (nothing wrong to be conservative, so it is a good thing)
However, my sincere hope is that the brief study above provides enough ammo to believe that the BITCOIN HOUSE and/or its various alternatives could immensely and fast benefit from bitcoin's next anticipated mega bullish cycles.
Scenario 1:
Time: May 2020
Bitcoin price:  55,000
Scenario 2
Time: late 2021-early 2022
Bitcoin price: $370,000
Scenario 3:

 
Time: between 2025-2028
Bitcoin price: 1 million dollars 
Obviously, there is lots of uncertainties in between, however, I have no knowledge of any other asset that has such well predefined supply, decentralized "trustless" global payment mechanism which will be adopted by the masses all over the world. The above scenarios are hypothetical. Price predictions may vary significantly, market prices may very volatile as well. Nevertheless, bitcoin's spectacular growth trajectory, its logarithmic and exponentially expected boom may result in a price appreciation we have never seen before. In other words, we may argue what prices bitcoin will reach and when, but if we see the forest from the trees, it does not really matter. Any price above $30,000 – even with lower prices – with sustained price power will make the
BITCOIN HOUSE
a very appealing investment to consider.
"Bitcoin's value is its network", it can host many houses. It can very well echo Nextgenlivinghomes.com' environment-friendly values by building a global network of bitcoin driven settlements.
Nextgenlivinghomes.com would like to serve such local communities that are not even exposed to bitcoin today. Thus, by EDUCATING and TEACHING individuals and communities about the principles and mechanics of using bitcoin, we are eventually involving people in a much larger scale in to the bitcoin's global community:
We are facilitating bitcoin mass adoption worldwide.
Long bitcoin, short the bankers…
Zoltan Vass
Resources:
Disclaimer:
Past results are not indicative of future returns. The indicators, strategies, references, visuals, graphs, articles and all other features are for educational purposes only and should not be construed as investment advice. Information for bitcoin's futures trading observations are obtained from sources believed to be reliable, but we do not warrant its completeness or accuracy, or warrant any results from the use of the information. Your use of the trading observations is entirely at your own risk and it is your sole responsibility to evaluate the accuracy, completeness and usefulness of the information. Hyperlinks to other internet resources are used by you at your own risk. The materials in this study may contain "forward-looking statements." Specific forward-looking statements can be identified by the fact that they do not relate strictly to historical or current facts and include, without limitation, words such as "may," "can," "will," "expects," "believes," "anticipates," "plans," "estimates," "projects," "targets," "predicts", "forecasts," "seeks," "could," "would" or the negative of such terms or other variations on such terms or comparable terminology. The content in this summary is not to be construed as a recommendation or offer to buy or sell or the solicitation of an offer to buy or sell any security, financial product or instrument, or to participate in any particular trading strategy.
More Validation