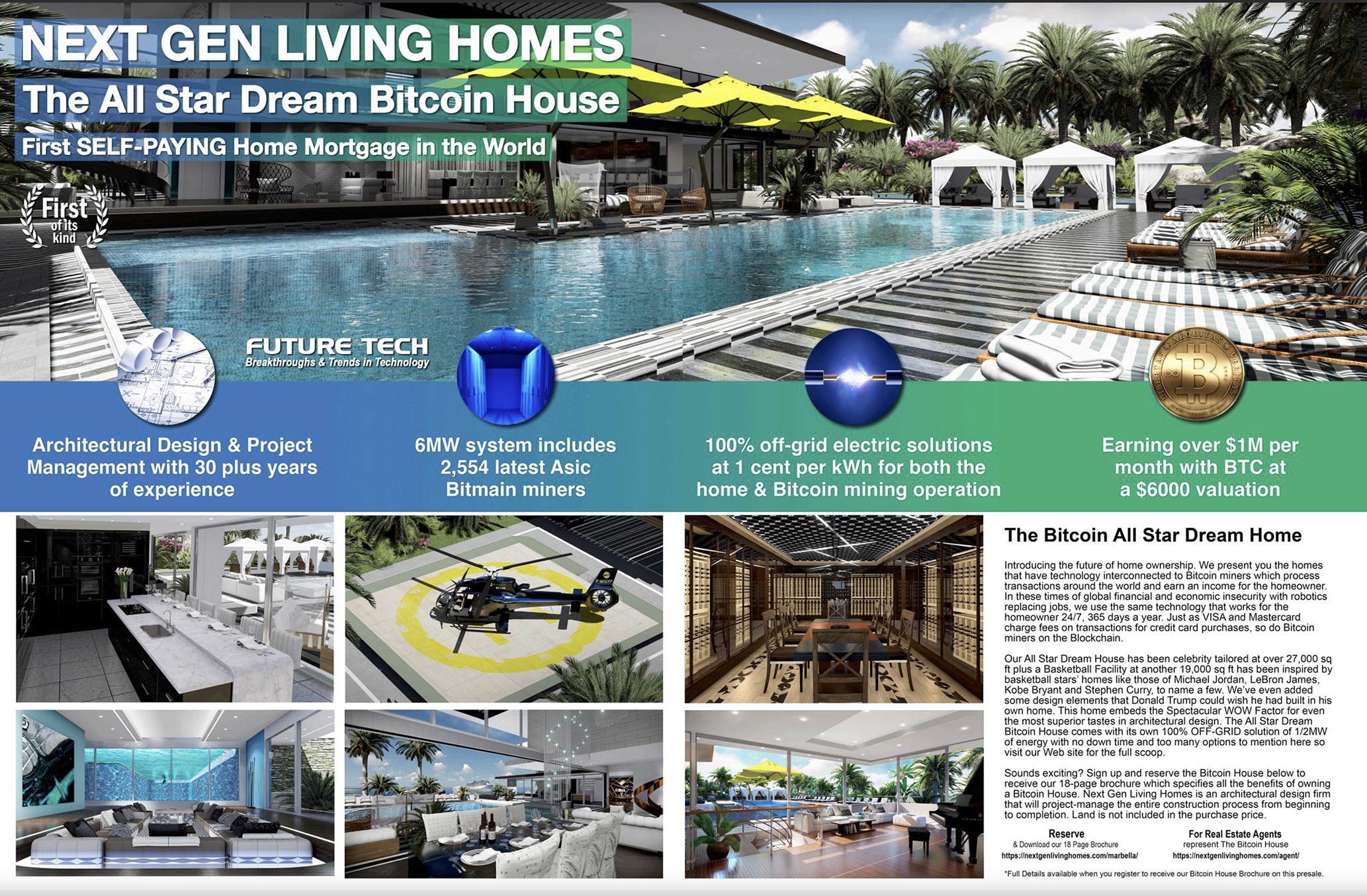 All Star Dream House

FEATURED In Marbella Essential Magazine October 2020

All Star Dream House
Our All Star Dream House has been celebrity tailored at over 27,000 sq ft plus Basketball Facility at another 19,000 sq ft has been inspired by basketball stars' homes like those of Michael Jordan, LeBron James, Kobe Bryant and Stephen Curry, to name a few. We've even added some design elements that Donald Trump could wish he had built in his own home. This home embeds the Spectacular WOW Factor for even the most superior tastes in architectural design. 100% off-the-grid capable with new Solar Roofing Technology! If we missed anything let us know, but we challenge you to find anything missing in our interior design and house plans.
All Star Dream House with indoor Basketball Court – 1:48 min

FLOOR PLAN AREA
• 1st Floor 4,250 sq ft
• 2nd Floor 5,220 sq ft
• Balconies 828 sq ft
• Pool area 3,342 sq ft
• Tennis court 6,000 sq ft
• Underground underwater pool smoking room and wine cellar 1,482 sq ft
• Underground Garage 5,955 sq ft  (13 car garage parking)
• Front of home carport has additional 4 car stalls
• Basement grotto/smoking and underground glass pool viewing 1,157 sq ft
• 5 bedrooms plus 1 bedroom for live-in staff
• 8 Bathrooms plus 1 bathroom for live-in staff
• 3 kitchens plus 1 for live-in staff
• 1 Movie Theater
• Wine Cellar and tasting room
• Grand Total Residence 27,669  Square Feet
All Star Basketball Court from Next Generation Living Homes – 1:28 min

You don't need to be the richest basketball player to afford our All Star Dream House. It's been designed using steel frames and concrete structure to minimize expenses and to deliver faster construction. Our All Star Dream House has been designed from the ground up with every amenity thoroughly thought out even for the most meticulous basketball players looking for a dream home.
Click here and select Potential Home Buyer and tell us you want one. Be sure to give us a LIKE on your Social Media platform below.

The Dream Home comes with full sized indoor Basketball facility for basketball stars to train during off-season, or even during the season ready for breakfast club training with your All Star Team. 100% off-the-grid capable with new Solar Roofing Technology!
• All Star Basketball Court (full sized regulation court and building at 19K sq ft
• Basketball Court enclosure 10,540 sq ft
• Level One 4,920 sq ft
• Level Two 3,520 sq ft
• Total indoor Basketball Facility 18,980 sq ft
• Luxury floor plans for the fully equipped Gym
• Extensive Weight Training room
• Aerobic/Yoga and stretching studio
• 2 Luxury team Spa/Jacuzzi's
• 2 Luxury team Locker rooms
• Luxury Lounge area for family and kids with viewing windows
• Ample parking even for Summer Kids Basketball camps
• The basketball court and fully equipped facility covers an expansive area of 19,000 sq ft not including parking
Basketball players looking for an All Star Dream House can fully appreciate the attention to detail and luxury put into our All Star Dream House Design. The architecture and interior design has been thoughtfully planned to deliver a beautiful house and modern architecture that will last for generations.

Disclaimer:
The pricing information is deemed reliable but not guaranteed. Steel frame pricing may change as market prices fluctuate, all pricing shown here are basic estimates, and do not include, shipping, delivery, and installation. You should rely on this information only to decide whether or not to inquire about purchasing your Architectural Concept Design & 3D Rendering Illustrations. Before making any other decision, you should personally examine and research the facts of steel frame homes. (e.g. steel frame vs. wood frame, steel frame with any of the following exteriors, concrete, composite siding, wood, metal or any other substrate layer.) Additionally, all uses except for personal, noncommercial use in accordance with the foregoing purpose are prohibited. Redistribution or copying of this information, any photographs and video tours is strictly prohibited without the written permission from Next Generation Living Homes. This information is derived from the Next Generation Living Homes, Inc. The information and any photographs and videos are protected by copyright. ©2016 Next Generation Living Homes.