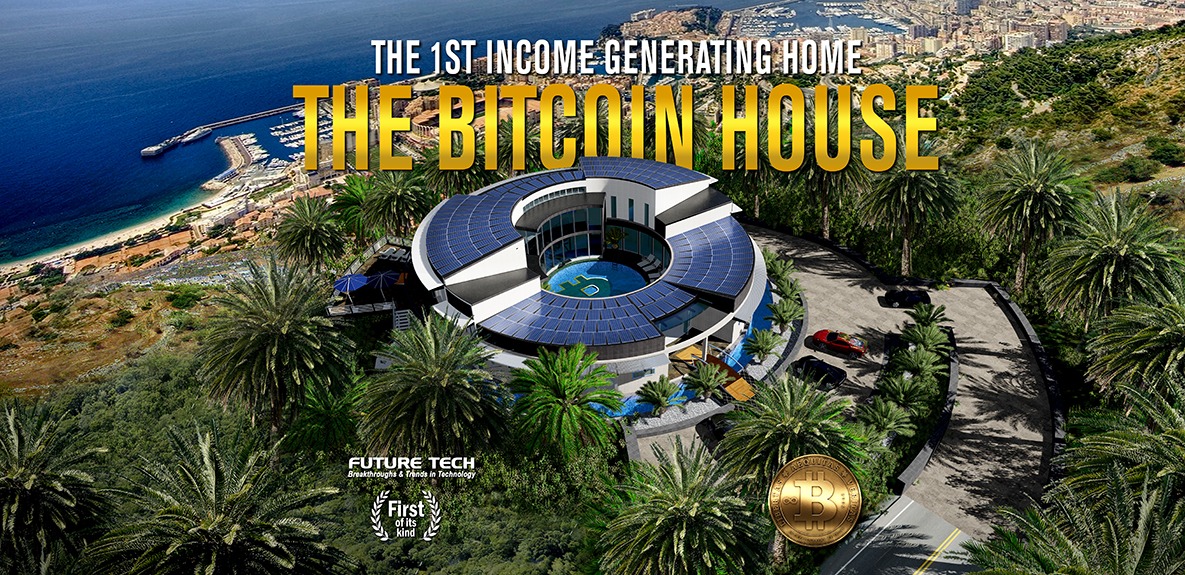 NextGen Unveils the First SELF-PAYING Home Mortgage to the World, with the release of the Bitcoin Home, styling in a Crypto-Crib!

Updated as of June 24, 2019
PHOENIX, Arizona, July 5, 2018 (Nextgenlivinghomes.com) – The days of paying a mortgage from making a living as in having a job, a credit score, credit history and a banking approval is going away. Next Generation Living Homes is bringing this paradigm shift in home ownership by making the self-paying home available to everyone. What if you can pay off your home mortgage in just 10 years and have complete ownership? What if you can have the freedom to do anything you want in life as a career or just be a home owner? What if your home can pay you a salary to live there for the rest of your life? What if you could build your life around your home and live anywhere in the world you want. Let's apply this technology advancement for the freedom we are all seeking.

Mr. DZahr, CEO of Next Generation Living Homes, states; "We are in an age of technology enlightenment, so far, we've been looking at home purchases from the bottom up, asking ourselves: Can I afford this home? Now, can we start looking from the top down, asking instead: What can I have, if I have a self-paying home?" What we have here is both innovating and creating real value!
Bitcoin House Aerial view – NextGen Unveils the 1st SELF-PAYING Home Mortgage to the World pt 1-2

TODAY
We've been in the age of computers for over 50 years, and computers are here to make life easier and faster. So, it's all about applying this technology to your home payment. What if your computer can make all the payments for you? And what if, our latest computers are so efficient and fast that YOUR home can make accelerated and full mortgage payments in just 10 years instead of 30-40 years. Just like VISA and Mastercard charge a 2.5% to 3.75% to merchants for all transactions using servers around the world and credit card swiping terminals wherever you shop. The banks earn this fee from merchants and they get to keep all these fees. With Bitcoin transactions there is a much smaller fee associated to a transaction, however there is an additional reward earned for having servers process Bitcoin transactions. These Bitcoin servers are also called Bitcoin miners. We calculate that our Computer servers Mining operation per Bitcoin House can earn $1M+ per month processing Bitcoin crypto currencies transactions as of todays (June 24, 2019) Bitcoin value. Now you can make all your mortgage payments in as little as 10 years based on the value of Bitcoin and a secondary income provided by the 100% off-grid solution included in the Home mortgage earned from renewable energy incentives and credits provided in the USA. As of this updated value of Bitcoin at $10,752.00 per Bitcoin and the earnings capability of our 5 mining rigs included in the price of the home the monthly income is at $1.4M just from the Bitcoin servers. Additionally each state in the USA offers different paybacks and incentives for going off-grid and not using the grid. The five (5) Bitcoin mining rigs/pods, each are 40 ft containers or mini data center and are called 1MW systems, referring to the energy required to run all the servers/computers in each 40 ft. container. Five of these containers use five (5) Megawatts of energy which are all 100% off-grid. These containers are
NOT located at the home
they are installed in a commercially zoned location that offers the best and highest incentives and rebates available in the USA. The home is also 100% off-grid using about 1/2MW of energy for the 26,200 sq ft home with 3 pools and 2 jacuzzis. The home can actually be located anywhere in the world while the Bitcoin servers/mining operation would be located in one of the 50 states offering the best SRECs.  No more downsizing, instead you'll have the freedom to have a bigger and better home that doesn't just appreciate based on the local comps, instead these homes will appreciate based on what they can earn.  
Download our Bitcoin House brochure
and Excel spreadsheet link shown on page 17 of the brochure to see the earning and value of this $220 million home that can be paid off in just 10 years.
HOW DO WE DO IT?
Our homes can be paid for via a Bitcoin Mining Network which you own and is fully turnkey operation and off-site from the home. We don't know what the value of Bitcoin will be in 4-5 years from now. Some industry leaders say… Bitcoin can rise to $1M per Bitcoin by 2024, others–more conservative–say $100K per Bitcoin by the end of 2020. Whether Bitcoin reaches $250K per coin in 48 months or not, the ability to make your home mortgage payment using an incorporated Bitcoin mining servers is real and available today!
OUR FLAG SHIP BITCOIN HOUSE

15 Total Bedrooms
2-1st level Bedrooms
9-2nd level Bedrooms
4-3rd level Bedrooms
18 Total Baths
5-1st level Full Baths
5-2nd level Full Baths
3-3rd level Full Baths
2-1st level Partial Baths
1-3rd level Partial Baths
2-2nd level MEN-WOMEN Guest Bathrooms
2 Kitchens
1 Wine Cellar
1 Garage with 8-10 parking stalls
1 Movie Theater seating for 12 people
3 Pools (center pool is 34 feet in diameter)
2 Jacuzzis
1 Living room
1 Family room
1 Laundry room
1 Pantry room
1 Main level Patio
1-2nd level Atrium Patio around the center pool
3 Entry-Exit Bridges
4 Balconies
1 main level patio
2-3rd level Large Walk-in Closets
207 Solar panels for 100% OFF GRID solution
Includes: Tesla Powerwall hanging solar battery packs for full night power
AREA SUMMARY
1ST FLOOR LIVING 3,461 SQ. FT.
2ND FLOOR LIVING 5,729 SQ. FT.
3RD FLOOR LIVING 2,288 SQ. FT.
TOTAL LIVING AREA 11,478 SQ. FT.
BASEMENT & GARAGE 3,776 SQ. FT.
BALCONIES 5,417 SQ. FT.
POOLS 3,970 SQ. FT.
CIRCULAR ATRIUM-INDOOR POOL 1,551 SQ. FT. (42 feet in diameter)
GRAND TOTAL 26,192 Square Feet
GRAND TOTAL 2433.32 Square Meters
EXTRAS
Another noteworthy point is our Bitcoin House comes with 100% OFF-GRID solution 1/2MW for the home use and 5MW of energy for the OFF-SITE Bitcoin mining operation. The home owner owns all the technology that is delivered and 100% of the earning from the Bitcoin mining is the Homeowners income. The mortgage is privately funded and requires just a 10% down payment, land is not included, and the mortgage is structured on a 30 year mortgage payment, however as Bitcoin earning go up the mortgage payment also goes up to create an accelerated payment on the mortgage. The homeowner also benefits with a $100k per month income as long as the Bitcoin value and income is $200k higher than the 30 year mortgage amount. Currently at todays Bitcoin Value the home owner enjoys the $100k per month income and the accelerated mortgage payment is also in place. The Bitcoin House is our Flag Ship home symbolizing a breakthrough in home ownership from the current mortgage payment system. The home is completely paid for with Bitcoin earnings and renewable energy credits. Purchasing the Bitcoin House can be done in U.S. currency and/or in Crypto currencies. We welcome Crypto
buyers
and Crypto 
investors
.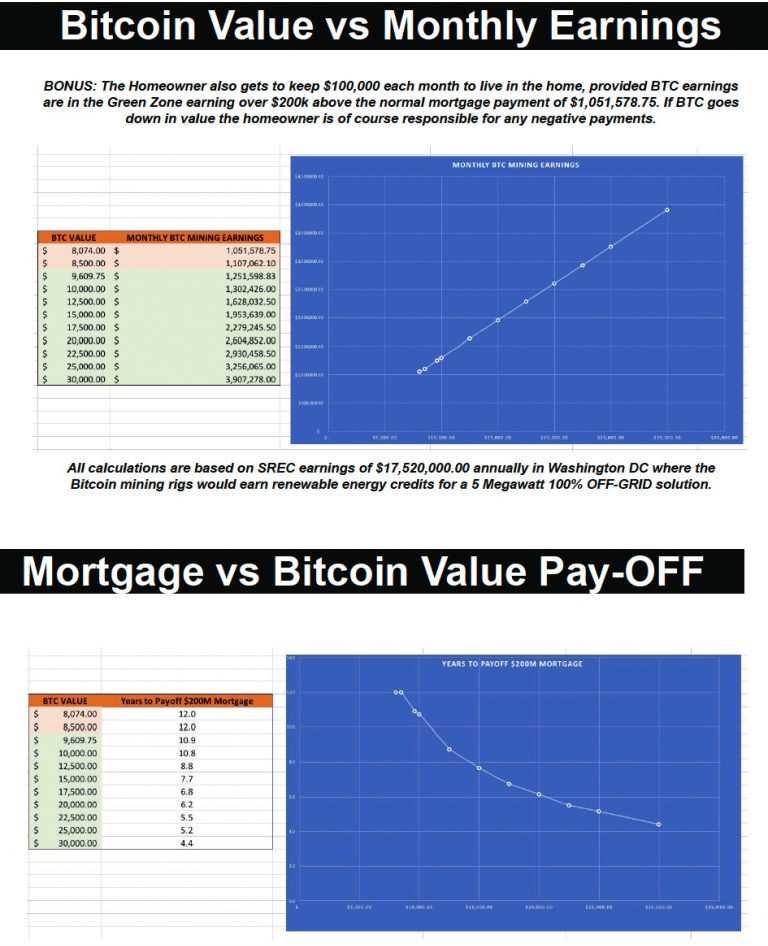 COMPUTER MINING NETWORK BENEFITS
Although there are many options for where the placement of the Computer Server Mining operation we have researched the highest renewable energy incentives and rebates so that the secondary income adds huge benefits to the Bitcoin ming operation. Contact us for more info
here
.
TOMORROW
Every day we see leaps and bounds in computer technology, and if we are correct you can expect to see in 3-5 years, instead of 3000 computers, we'll only need perhaps only need 10 computers to generate the same earnings that 3000 computers earn today, plus we'll be able to reduce the use of electricity by huge factors so that any home in the world can have these accelerated payments and income. As this takes place around the world we'll see a paradigm shift like you never seen in the history of the world. People will have a home and generate an income in any currency of their choosing. This paradigm shift is for humanity which everyone needs and wants! Technology should not be used to limit people, instead technology should liberate and improve our societies in the most imaginative ways possible. We have the dream and we have the realty Today with the Bitcoin House.
HOW CAN I GET ONE NOW?
Our Bitcoin House is available for immediate project development. Early adopters with properties in prime locations around the world may submit their property particulars for evaluation at this
LINK
.  All Energy solutions and Crypto computer server mining operations are exclusively sold and managed in conjunction and within the mortgage tied to the home.
NextGen has also considered that the cost of electric energy  has and is growing every year around the world, ranging from .10 cents to .45 cents per kWh, and that many cities in the USA are also worried about the massive power usage by such Bitcoin mining facilities. NextGen provides a new energy technology that offers 100% off-grid solution at a 1 cent per kWh. The Hybrid technology generators are fully covered for U.S. incentives and rebates, that have no emissions, no noise, no toxic fuels and, best of all, have a small foot print easily added to the Bitcoin House with 1/2MW on site for the home. The 100% off-grid technology can generate anywhere from 1 MegaWatt to 100 MegaWatts of electricity, enough for a small city. For more info Click Here.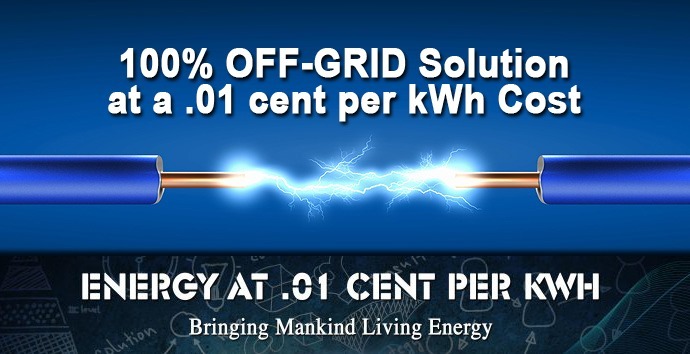 Disclaimer: All numbers shown above are subject to change and are only used as an Early Stage estimate. Bitcoin earnings may fluctuate with the various crypto currency markets.  Earnings valuations may easily fall or rise in a time of mass adoption. Other Altcoins can also be mined in conjunction with Bitcoin if needed. We are developing solutions that will bring home ownership with self-paying home mortgages to the forefront.

The First SELF-PAYING Home Mortgage to the World.
Forward–looking Statements
This press release contains forward–looking statements. The words or phrases "would be," "will allow," "intends to," "will likely result," "are expected to," "will continue," "is anticipated," "estimate," "project," or similar expressions are intended to identify "forward–looking statements." All information set forth in this press release, except historical and factual information, represents forward–looking statements. This includes all statements about the Company's plans, beliefs, estimates and expectations. These statements are based on current estimates and projections, which involve certain risks and uncertainties that could cause actual results to differ materially from those in the forward-looking statements. These risks and uncertainties include issues related to: rapidly changing technology and evolving standards in the crypto mining industry; the ability to obtain sufficient funding to continue operations, maintain adequate cash flow and execute its business strategy; volatility in the Bitcoin market; and other factors set forth in the Company's most recent press releases and printed materials. Readers are cautioned not to place undue reliance on these forward–looking statements, which reflect management's analysis only as of the date hereof. The Company undertakes no obligation to publicly revise these forward–looking statements to reflect events or circumstances that arise after the date hereof. Readers should carefully review the risks and uncertainties described in our web site and documents that the Company releases from time to time via our Web site, Email Newsletters and printed brochures.