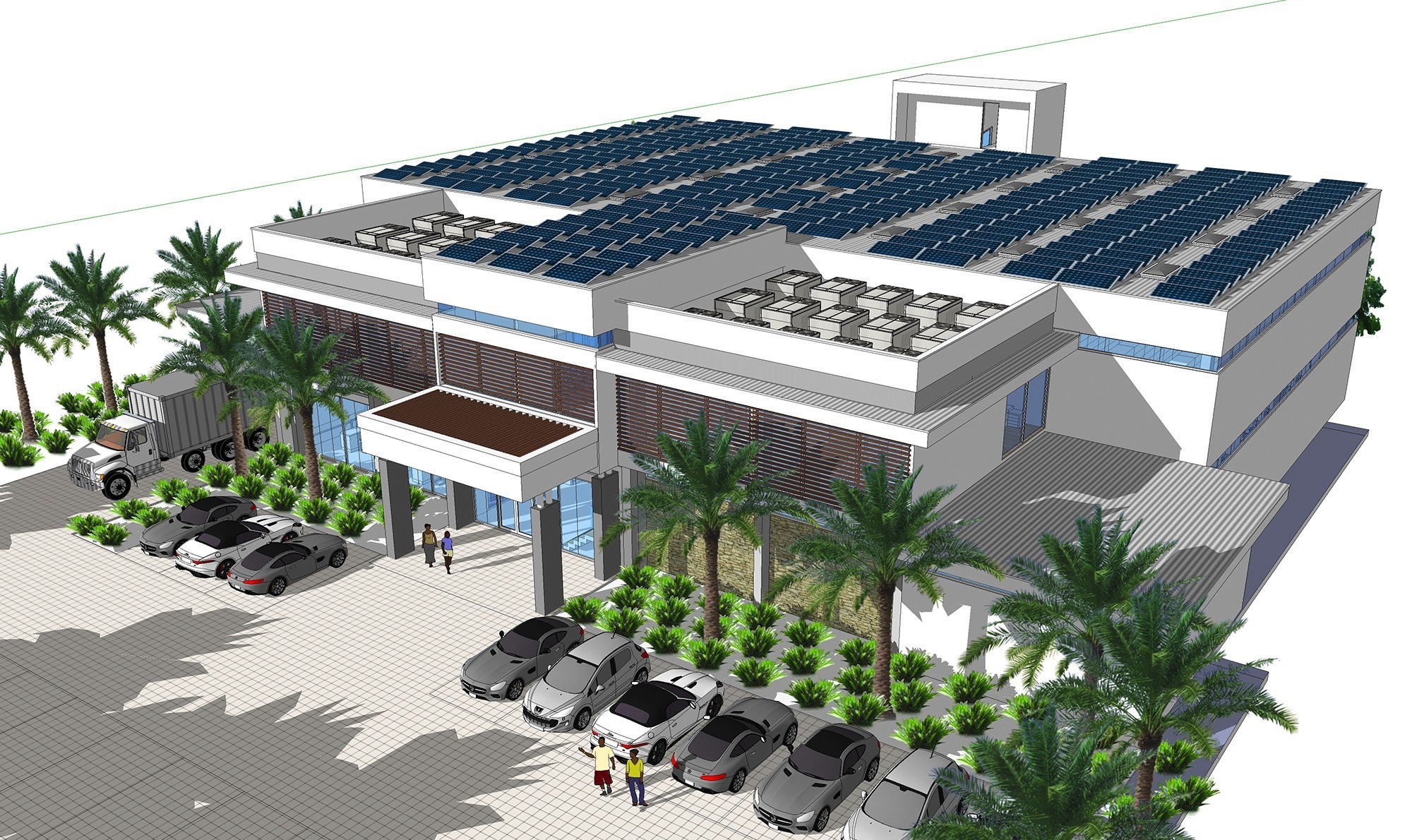 Modern Design of a Bitcoin & Crypto Currency Mining Facility
This is a modern day green data center design using two kinds of green energy approaches, first using 300 solar panels placed on the roof of the data mining center providing initial 15% of the energy for 10,000 Bitcoin ASIC miners and a fuel cell manufacturing facility on the first level. The low cost of fuels cells would be capable of providing an additional 85% to 100% of the energy for 10,000 or even 20,000+ ASIC miners. The fuel cell technology is a green energy source and provides a green by product creating distilled water. The water production is a commercial by product that can be repurposed and commercially sold, creating a zero cost to energy cost making this a 100% green data center.
The facility is split into 3 sections, at 10,000 sq ft two level, one the front office with 24/7 staffing living quarters, plus conference rooms, an exercise gym, locker rooms, Jacuzzi/spa, kitchen facility, bedrooms and showers. On the first floor 10,000 sq ft fuel cell and water plant manufacturing facility. Three on the second another 10,000 sq ft level full data center with control room for monitoring all mining equipment.
The facility is designed to be built of concrete and steal framing making it a secure and stable structure. Full customization can be added for further security of the facility and can be built remotely due to it's off grid energy sources.
Modern Design of a Bitcoin & Crypto Currency Mining Facility

See our data mining facility video animation here:
AREA ANALYSIS, LEVEL 1:
FACTORY: 10,882 SQ FT
ANCILLARY COMPARTMENTS: 3,828 SQ FT
LOADING BAY 735 SQ FT
VERANDA 390 SQ FT
AREA ANALYSIS, LEVEL 2:
DATACENTER: 10,882 SQ FT
ANCILLARY COMPARTMENTS: 3,362 SQ FT
TOTAL 30,079 SQ FT
ALL DIMENSIONS AND AREAS ARE APPROXIMATE ONLY
If you'd like to collaborate on building the Next Generation Bitcoin and Crypto Mining Facility, Please submit your info for further discussions here:
NextGen has also considered that the cost of electric energy  has and is growing every year around the world, ranging from .10 cents to .45 cents per kWh, and that many cities in the USA are also worried about the massive power usage by such Bitcoin mining facilities. NextGen is currently pursuing and is in negotiation with a new technology company that offers 100% off-grid solution at a .01 cent per kWh cost. The technology generator is covered for rebates and incentives in both solar and wind turbines that have no emissions, no noise, no toxic fuels and, best of all, can be hidden from sight not to disrupt any HOA or city rules. The 100% off-Grid Technology can generate anywhere from 1 MegaWatt to 100 MegaWatts of electricity, enough for a small city. Click Here for more info.