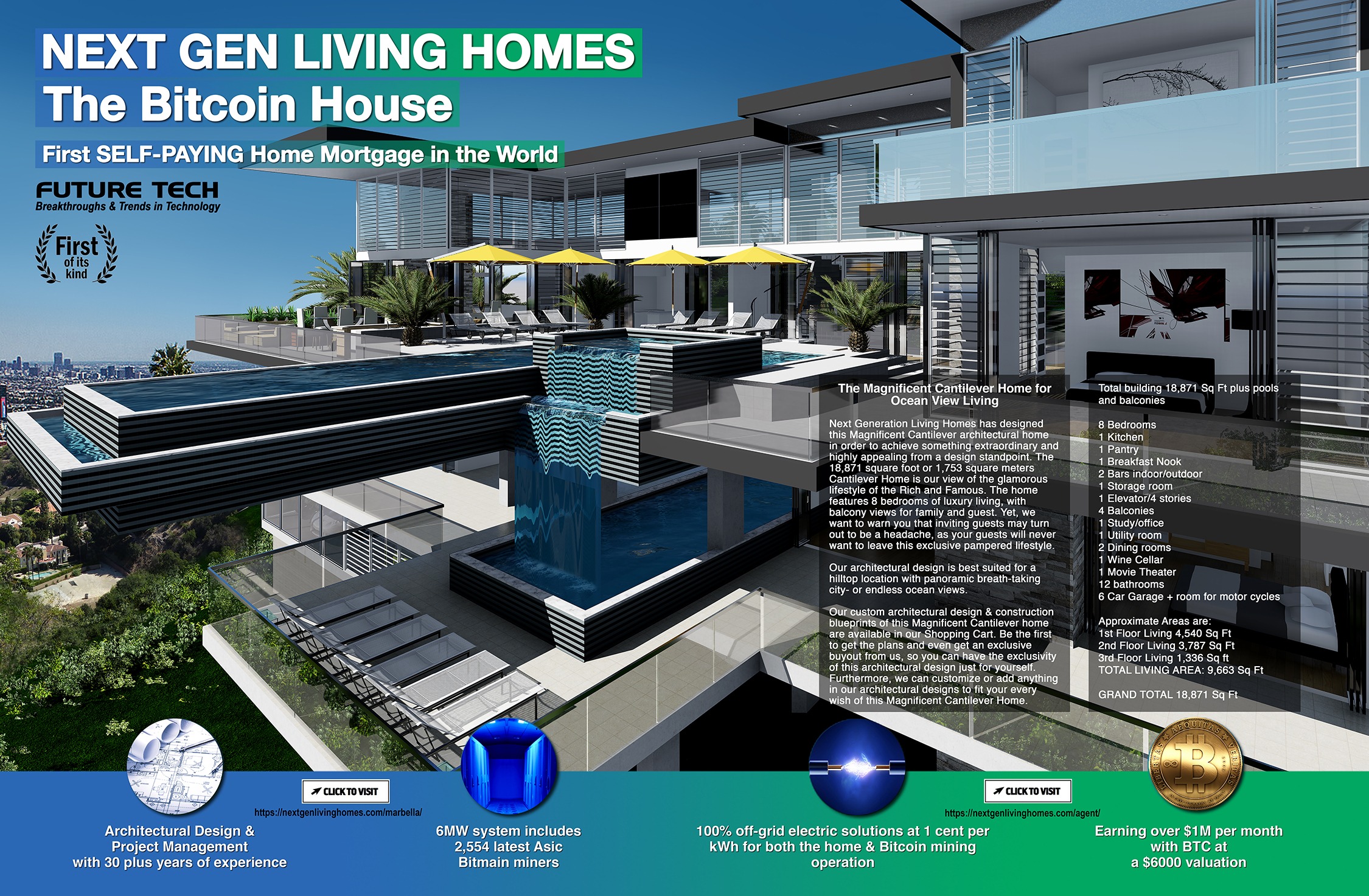 This Magnificent Cantilever Home for Ocean View Living

Next Generation Living Homes has designed this Magnificent Cantilever architectural home in order to achieve something extraordinary and highly appealing from a design standpoint. This is our view of the glamorous lifestyle of the Rich and Famous. The home features 8 bedrooms of luxury living, with balcony views for family and guest. Yet, we want to warn you that inviting guests may turn out to be a headache, as your guests will never want to leave this exclusive pampered lifestyle.
Our architectural design is best for a hilltop location with panoramic breath-taking city- or endless ocean views. If price is of no object, this 18,871 sq. ft. Cantilever Home's estimated retail valuation in prime locations of Los Angeles or San Diego is at $53.3 Million, when completed.
The full custom architectural design and construction blueprints of this magnificent Cantilever home are available in our Shopping Cart. Be the first to get the plans and even get an exclusive buyout from us, so you can have the exclusivity of this architectural design just for yourself. Furthermore, we can customize or add anything in our architectural designs to fit your every wish of this Magnificent Cantilever Home.
Total building 18,871 Sq Ft plus pools and balconies
8 Bedrooms
1 Kitchen
1 Pantry
1 Breakfast Nook
2 Bars indoor/outdoor
1 Storage room
1 Elevator/4 stories
4 Balconies
1 Study/office
1 Utility room
2 Dining rooms
1 Wine Cellar
1 Movie Theater
12 bathrooms
6 Car Garage + room for motor cycles
Approximate Areas are:
1st Floor Living 4,540 Sq Ft
2nd Floor Living 3,787 Sq Ft
3rd Floor Living 1,336 Sq ft
TOTAL LIVING AREA: 9,663 Sq Ft
Basement 2,557 Sq Ft
Balconies/Porches 5,416 Sq Ft
Pools 1,235 Sq Ft
GRAND TOTAL 18,871 Sq Ft
Our Magnificent Cantilever Home Exterior Showing

Our Magnificent Cantilever Home Interior showing