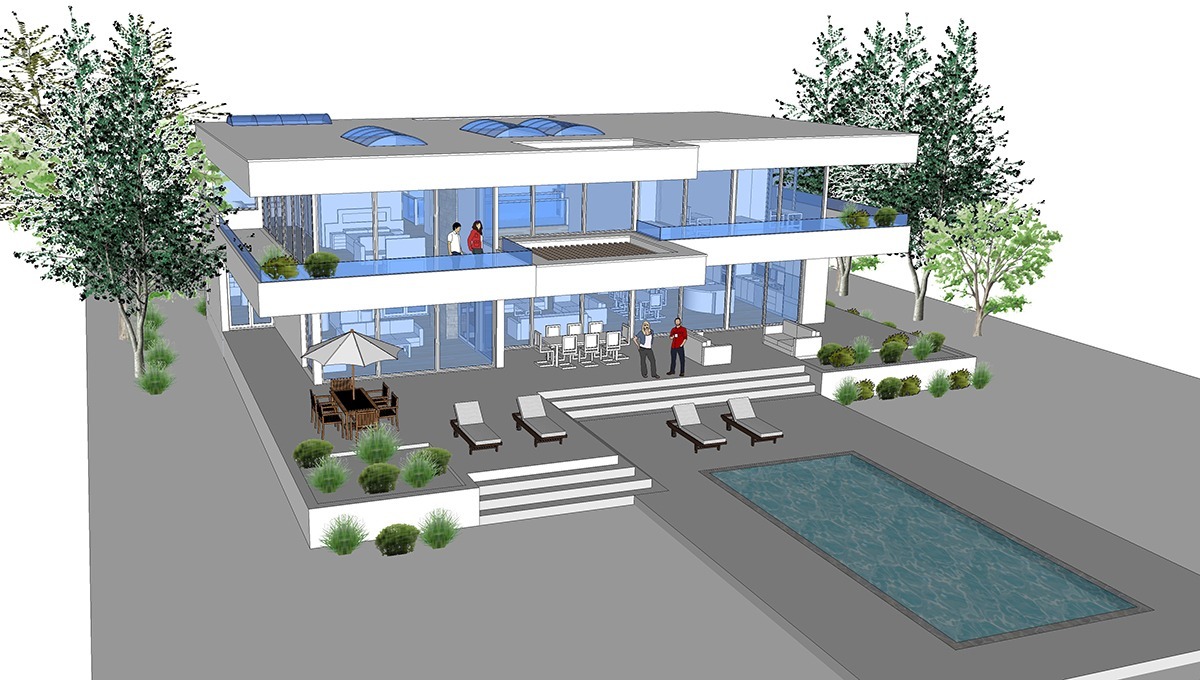 FAQ – Services
TODAY, we live in a technology driven world where new tools allow us to be more mobile and give us the ability to deliver virtually anywhere worldwide. Homes are designed using CAD systems, and we are able to view them in 3D with virtual walk-throughs, giving the home buyer and/or home builder a better ability to plan and design a home. Steel Framing has been around for construction for at least 50 years in the commercial building industry. Over the last 20 years steel mills factories have developed custom services for residential homes, so this is not a new service. We can deliver steel frame homes to any state in the USA and off the coast, provided it's a state and project we would consider (for various reasons.)
5-STEP PROCESS FOR GETTING AN ESTIMATE FOR STEEL FRAME CONSTRUCTION

Order your Architectural Concept Design & 3D Rendering Illustrations
Submit your floor plan idea whether it's a hand drawn sketch or an architectural design of your preliminary floor plan. If you don't have a floor plan yet, send us a photo similar to what you want or just tell us the sq. ft. and number of bedrooms, and we'll custom design it for you. Our in-house architect will produce a professional architectural concept design and 3D rendering for your 1st review. You will then receive designs for your review which can be changed at no extra charge as long as the original design remains the same. However, adding more rooms, changing roof design or adding more sq. ft. means a redesign, so additional fees would have to be added. Your final Architectural Concept Design & 3D Rendering Illustrations files will be available to you for viewing with Sketchup on your own Mac or PC computer once you have signed-off and approved the finished and final design and 3D renderings.

Getting an Initial Estimate From the Steel Mill
After you have approved our Architectural Concept Design & 3D Rendering Illustrations, then it is sent to our steel mill in the USA for CAD review, structural engineering and steel frame estimation. The steel mill may require redesigns of framing, if any load stresses are found in the design structure. This is a fail safe built into the CAD system. If a structure needs any redesigning for load stress, then they are corrected in the CAD design, and you will be notified of the structural change.

Project Management
We hire licensed architects localized to your city to design an architectural construction blue prints and get the building plans approved to code for your city permitting process.  The architect will determine where the electrical, plumbing, and sewer lines are all going to be placed. (requires additional fees). All final architectural design are completed by local architect or architecture firms in your city to code for easy building permits. The home owner will need to submit the construction blueprints to the city for approval and to pay for construction permit(s).

Submitting the Blue Prints to the Steel Mill & Getting a Final Estimate from the Steel Mill
These architectural blue prints and construction drawings are then re-submitted as a final delivery to our steel mill for fabrication with all electrical and plumbing specifications.

Local Approval Process
The review process before building anything goes through 4 departments, including the city permit department for final building approval. Nothing is built without going through this thorough approval process.  (city permits require additional fees)

How long does it take to create the Architectural Concept Design & 3D Rendering Illustrations?
This process usually takes 2-3 weeks.
What does the steel framing estimate include?
Our initial estimate is based on steel frame manufacturing, delivery and on-site steel frame fabrication.
What is not included in the estimate for the steel framing?
The steel frame does not include any additional custom work, such as land excavation, bringing sewer to the structure, water, electric or cable to a lot, laying down concrete slabs, or constructing a concrete basement or parking garages. Flooring options could be stained concrete flooring, wood flooring, tile flooring, marble flooring or carpeting, etc. Furthermore, the glass windows or glass doors, glass floors or skylight all need separate estimating. Kitchens and bathrooms are also custom interior designs as per our client budgets. Wine cellars can also be custom built. Roofing, rooftop decking, pool and pool side decking, again, is a custom add-on.
Do you have Template Homes or Model Homes to choose from?
All our designs and project management are for custom homes, this way you will have the ability to choose what upgrades for interiors and exterior finishes you want in your home. All deliverables and construction is done by locally contracted, licensed and bonded contractors we hire for these projects. All contractors have a strict review process and solid experience and are carefully selected by our team of project managers.
How long is the process to build the steel frame?
The Steel Framing can be built in 24-48 hrs for up to 2500 sq ft.
How long is the process to finish the exterior walls, interior and roof?
This process takes 3-4 months and is project managed by our team.
Can we build outside the USA or on an island?
Whether the construction project is in Hawaii, Mexico, Spain, Costa Rica, or Tahiti, we can certainly build there with the local permits.  There will be additional fees for obvious reasons, since we have to deliver and go to such locations to review the property and meet with local contractors. We're not going to go into logistics for long distance projects as this is far too early in the project management. Island building fees are going to be more than on the mainland.
What are some of the advantages of Steel Frame homes? Will Steel Framing rust?
Our steel frames and beams do not rust, as they are rust protection coated, and since the steel is inside the envelope of the building structure, they are further protected against the weather and climate elements. The 18 gauge steel is hot dip galvanized with zinc to eliminate corrosion and is ideal for salt environments, i.e., coastal locations. Additionally, no one looking at these homes would know that they're steel built from the exterior or interior finish. They are much stronger than wood, allowing for large open living room spaces, and no pests can eat away at the steel, like wood. The steel does not rot nor does it burn, so it's a much safer construction. The entire building can be built without using wood, if you wanted, using composite materials that never burn.
Disclaimer:
The pricing information is deemed reliable but not guaranteed. Steel frame pricing may change as market prices fluctuate, all pricing shown here are basic estimates, and do not include, shipping, delivery, and installation. You should rely on this information only to decide whether or not to inquire about purchasing your Architectural Concept Design & 3D Rendering Illustrations. Before making any other decision, you should personally examine and research the facts of steel frame homes. (e.g. steel frame vs. wood frame, steel frame with any of the following exteriors, concrete, composite siding, wood, metal or any other substrate layer.) Additionally, all uses except for personal, noncommercial use in accordance with the foregoing purpose are prohibited. Redistribution or copying of this information, any photographs and video tours is strictly prohibited without the written permission from Next Generation Living Homes. This information is derived from the Next Generation Living Homes, Inc. The information and any photographs and videos are protected by copyright. ©2016 Next Generation Living Homes.