RESERVE YOUR BITCOIN HOUSE TODAY!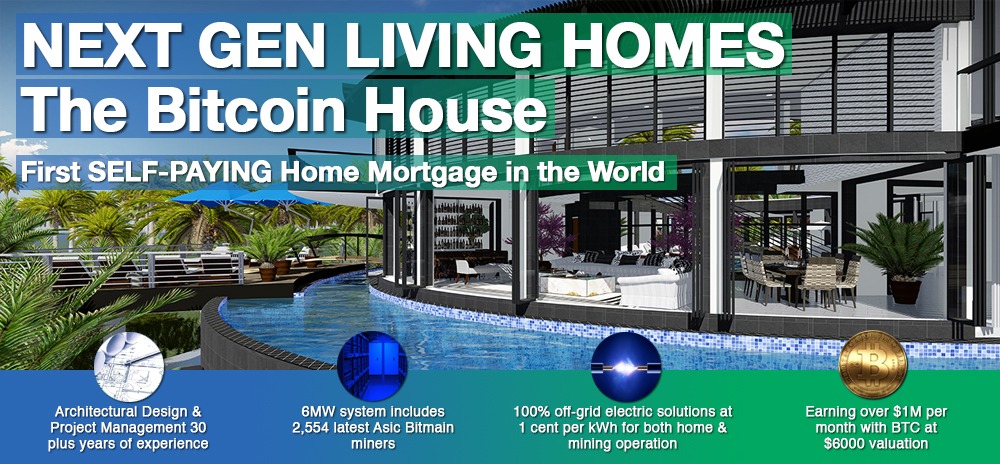 Next Generation Living Homes is excited to announce our BITCOIN HOUSE PRE-SALE and EXCLUSIVE RESERVATION. The Bitcoin House is ultra modern and luxurious, income producing technologically advanced project executed with the collaboration of global blockchain-based secured Bitcoin mining rigs.
THE MARBELLA BITCOIN HOUSE
Introducing the Future of Home ownership. We present you the homes that have technology interconnected to Bitcoin miners that process transactions around the world and earn an income for the homeowner. In these times of financial and economic insecurity around the world and robotics replacing jobs, we use the same technology that works for the homeowner 24/7, 365 days a year. Just like VISA and Mastercard charge fees on transactions for credit card purchases, so do Bitcoin miners on the Blockchain. The 30-year mortgage is paid at an accelerated pace, which earns over $1 million per month to pay off the mortgage in 12 to 24 years without incentives, or with incentives at a staggering rate of 6-8 years at today's published Bitcoin Value of $9350 as of June 21, 2020.*
The Bitcoin House comes with its own 100% OFF-GRID solution of 1/2MW of energy, 3 swimming pools, 15 bedrooms, 18 bathrooms, a 12-car garage and 3 story structure. It has two kitchens, a movie theater, wine cellar and much more. The Bitcoin mining operation is located in a tax-free zone or a high-incentive zone and has a turn-key operation for the home owner. The mining facility comes with 6MWs of energy that is 100% OFF-GRID and is included in the price of the home.
While the Bitcoin house comes with a €200M price tag, with a 20% down payment, the home mortgage is paid for by the technology, and there is also a bonus earnings of $100k per month paid to the home owner. The Bitcoin mortgage is the fastest approach to home owners' financial freedom.
Sounds exciting? Sign up and reserve the Bitcoin House below to receive our 18-page brochure that explains all the benefits of owning a Bitcoin House. Next Gen Living Homes is an architectural design firm that will project-manage the entire construction process from beginning till completion. Land is not included in the purchase price. The homeowner needs to have land ready to build on.
Real Estate Agents wanting to represent The Bitcoin House Contact Us Here
Register here to receive the Bitcoin House Brochure
ALL INFORMATION PROVIDED HERE IS 100% CONFIDENTIAL AND WILL NEVER BE SHARED WITH 3RD PARTIES.